Fraud Alert
Fraud Alert Involving Timeshare Broker Associates
It has come to our attention that there is someone sending letters to timeshare owners via email claiming to be a real estate agent working for Timeshare Broker Associates. This email is accompanied by a letter of intent to purchase the timeshare from a man named James Fowler. This letter claims to have a party interested in purchasing a timeshare on behalf of a man named Ted Miller, and to make contact directly with James Fowler at his gmail account or by phone. Please be advised this is in no way affiliated with Timeshare Broker Associates and is a scam.
This scammer is quite convincing, pointing to a license active with Florida's Department of Business and Professional Regulation (DBPR). However, if you do a bit more research within the DBPR website, you will find Mr. Fowler's license is a legitimate and active license, but not active with Timeshare Broker Associates. Timeshare Broker Associates does not currently, nor has ever been employed or contracted with a James Fowler.
If you get any emails with a letter of intent (pictured below), or contacted by James Fowler, do not engage this person! Please contact me and forward a copy of any material to me so that I may provide it through the proper channels.
Below is a copy of the letter of intent that timeshare owners have been receiving from James Fowler.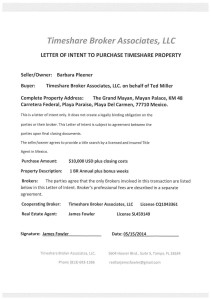 Jason Connolly
Managing Member/Broker
Timeshare Broker Associates, LLC.
A Licensed Florida Real Estate Brokerage